Call for an appointment: 613 825-9393
A healthy smile can last a lifetime
Thank you for visiting our website. We are a team of passionate individuals who are committed to providing best in class dental care for your whole family. Please get to know us.
We proudly offer a complete range of dental services using cutting edge technology. Learn more about our services.
Our office is conveniently located in Barrhaven, just beside Ross' Independent Grocer. To help you find us, please check the map and bus schedule on our contact page.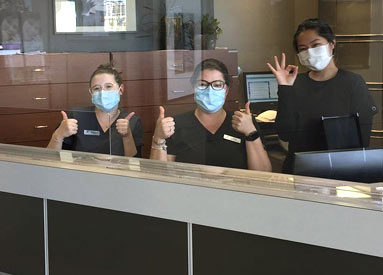 Call 613-825-9393 and Suzanne, Florina or Kim will handle the transfer of your existing patient file from your current dentist.
Having a dental office like Barrhaven Dental Care is a real relief. My husband & I and our three children all visit Barrhaven Dental Care. The staff is excellent with our children putting us (and them) at ease.

Barrhaven Dental Care is centrally located. A short drive from Kanata and I'm there. Convenient and excellent staff that I trust.

The team at Barrhaven Dental Care are very friendly and accomodating making my visit as pleasant as possible.
Call us to today to schedule an appointment.
Experience five star care. Book an appointment today by clicking "Make an Appointment" and calling us.