Call for an appointment: 613 825-9393
A healthy smile can last a lifetime
Our philosophy is to provide quality dental care in a trusting and respectful environment.

We are committed to building a lasting relationship with you and your family and we believe that your dental care should be comprehensive, with outstanding customer service and warmth that sets our office apart from others.

From your first visit at our office you will be treated like a friend and our dental team will work hard to assist you with any concerns, to ensure your comfort and to make sure your experience is a pleasant one.

We hope to gain your trust and respect by providing excellent patient care.

Contact us today and learn how we can help you.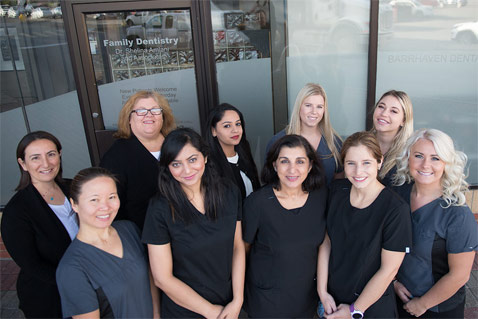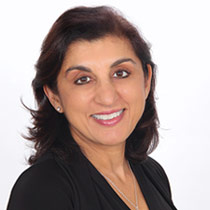 Dr. Shelina Amlani
Dentist
Since the opening of Barrhaven Dental Care in 1996, Dr. Amlani has enjoyed providing dental care to the families of Barrhaven.
After graduating from McGill University in 1985 with a Bachelor of Science in Physiology, Dr. Amlani attended Case Western University in Cleveland, Ohio where she completed her Doctor of Dental Surgery degree in 1989, followed by a residency at Mount Sinai Hospital in Toronto.
Dr. Amlani keeps current with new technologies and procedures and has completed numerous continuing education courses involving preventative, restorative, cosmetic, orthodontics, implants, oral pathology and conscious sedation. She is an active member of the Royal College of Dental Surgeons of Ontario, the Canadian and Ontario Dental Associations and the Ottawa Dental Society.
Over the years, Dr. Amlani and the team of professionals at Barrhaven Dental Care have built a solid reputation of integrity and trust.

Dr. Simarpreet Narang
Dentist
Dr. Simarpreet Narang (Sam) graduated from BFUHS (India) with a Bachelor of Dental Surgery degree in 2013. In 2019, he successfully completed his NDEB Equivalency and obtained his Canadian Dental license. Dr. Sam is a registered member of the Royal College of Dental Surgeons Ontario (RCDSO) and is a member of the following organizations: Canada Dental Association, Ontario Dental Association, and Ottawa Dental Society. He has participated in countless continuing education courses to provide his patients with the best and most up-to-date dental care.
Dr. Sam is a compassionate and dedicated dentist who strives to build a strong relationship with his patients being well-informed to ensure they have a high quality, comfortable and pain-free dental experience. When you're with him, you'll be able to share concerns openly and ask questions, and he'll guide you through the treatment process and aims to reduce dental anxiety.
Dr. Sam advocates preventive dentistry along with early detection of problems, strongly emphasizes saving the natural tooth structure, and provides his patients with the most aesthetic and functional treatments.
Outside the clinic, he enjoys going for nature walks, listening to music, and spending time with his family. He enjoys couch time on rainy days and catching up on his favourite shows and movies. Dr. Sam looks forward to interacting with you and leaving you with a gigantic smile.

Dr. Jyotsna Bhatia
Dentist
Bio Coming Soon