Call for an appointment: 613 825-9393
A healthy smile can last a lifetime
Our philosophy is to provide quality dental care in a trusting and respectful environment.

We are committed to building a lasting relationship with you and your family and we believe that your dental care should be comprehensive, with outstanding customer service and warmth that sets our office apart from others.

From your first visit at our office you will be treated like a friend and our dental team will work hard to assist you with any concerns, to ensure your comfort and to make sure your experience is a pleasant one.

We hope to gain your trust and respect by providing excellent patient care.

Contact us today and learn how we can help you.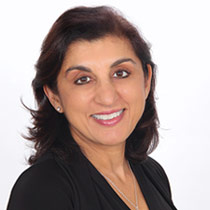 Dr. Shelina Amlani
Dentist
Since the opening of Barrhaven Dental Care in 1996, Dr. Amlani has enjoyed providing dental care to the families of Barrhaven.
After graduating from McGill University in 1985 with a Bachelor of Science in Physiology, Dr. Amlani attended Case Western University in Cleveland, Ohio where she completed her Doctor of Dental Surgery degree in 1989, followed by a residency at Mount Sinai Hospital in Toronto.
Dr. Amlani keeps current with new technologies and procedures and has completed numerous continuing education courses involving preventative, restorative, cosmetic, orthodontics, implants, oral pathology and conscious sedation. She is an active member of the Royal College of Dental Surgeons of Ontario, the Canadian and Ontario Dental Associations and the Ottawa Dental Society.
Over the years, Dr. Amlani and the team of professionals at Barrhaven Dental Care have built a solid reputation of integrity and trust.
Dr. Sara Bahnam
Dentist
Born and raised in Ottawa region, Dr. Bahnam has wanted to be in the dental profession from a young age. She attended Samuel-Genest high school, and graduated with an Honours Bachelor of Science with specialization in Biochemistry from the University of Ottawa in 2010. Her studies led her to complete her Doctor of Dental Medicine at the University of Sydney in 2015. She was awarded with the Goldsworthy Sullivan Memorial Prize for Proficiency in the Field of Oral Biology for her dental research, entitled Caries Induced Neural Phenotype in Lining Odontoblasts, where human pulpal tissue changes in decayed teeth were examined in order to further understand the neuronal origin of dental pain. Dr Bahnam is a member of the Royal College of Dental Surgeons, The Canadian Dental Association, The Ontario Dental Association, and the Ottawa Dental Society.
Dr. Caroline Fulop
Dentist
Dr. Fulop graduated from The University of Pennsylvania School of Dental Medicine (Philadelphia, PA) with Honours in Oral Medicine. She then pursued post-graduate training and completed a hospital dental residency in Paediatric Dentistry at The Hospital for Sick Children (Toronto, ON) where she gained valuable experience in the care and management of medically complex patients, dental trauma, and paediatric dentistry. Dr. Fulop is also an associate dentist at The Ottawa Hospital Dental Clinic (Civic Campus) where she provides dental care to medically complex patients from across Eastern Ontario. Dr. Fulop looks forward to providing quality and compassionate care to patients and families at Barrhaven Dental Care, with a particular interest in dentistry for children and adolescents.
Florina
Treatment Coordinator
Florina came to Canada in 1996. She was at stay-at-home mom until her teenage girls decided they no longer needed their mom home during the day. Florina disliked dental offices until she met the receptionist at her dental office who made her feel welcome and comfortable as soon as she walked in. That's why she decided to choose a new profession and become a dental receptionist. She graduated from Medical/Dental office Administration in 2007 and joined Barrhaven Dental Care shortly after.
Just like her miniature Dachshund, Florina loves hot weather. She enjoys reading, travelling, shopping (especially at the busiest of seasons). She adores jewellery (she is "the Pandora Queen" at the office) and her old time favourite hobby is making silver jewellery.
Suzanne
Treatment Coordinator
Suzanne was born and raised in Ottawa. She graduated from the Medical Office Assistant program in 1998 and has been working in the dental field for over 15 years. Her goal in the office is to provide the best care for our patients and to be able to address any needs or concerns effectively and in a timely fashion. Suzanne and her husband have two boys who keep them busy outside of the office and in her spare time she enjoys spending time with family and friends.
Hiba
Certified Dental Assistant Level 2
Born and raised in Ottawa, Hiba attended Everest College where she graduated from the Dental Assisting level II program. Hiba enjoys every part of her job, including working with an awesome team and wonderful patients. Her goal in dentistry is to ensure all of our patients are happy and comfortable, creating a positive work environment and putting a smile on patients' faces.
Hiba comes from a loving family, with three brothers and a sister. Her hobbies include spending time with family and friends and swimming.
Samim
Certified Dental Assistant Level 2
Samim was born in Bangladesh and moved to Canada in 1998. She completed her Level II Dental Assisting program in 2007. Samim loves her profession and enjoys working in a team environment. She is extremely caring to her patients and likes to make their visits as comfortable as possible.
She enjoys music, cooking for family and friends, playing badminton and spending quality time with her husband and two daughters.
Amanda
Certified Dental Assistant Level 2
Amanda was born in East of Toronto but has spent most of her life here in Ottawa. Amanda graduated from Trillium College with Honours in the Dental Assisting Level II program. One of the biggest joys Amanda has working in the dental field is seeing patients leave the clinic with a bright and satisfied smile. She hopes to pursue a long, gratifying career as a Dental Assistant.
Amanda's hobbies outside of work include fitness, taking her dog to the park, and also working part-time at a small town restaurant, where her work has become more of a passion.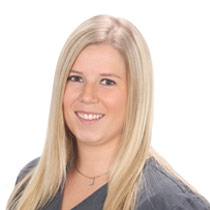 Ashley
Registered Dental Hygienist
Ashley was born and raised in Ottawa. In 2008 she graduated from the Dental Assisting Level II program at Everest College. She assisted until 2010 and then went back to school to pursue her career in Dental Hygiene. Her primary goal is to make patients feel comfortable and to educate them on their oral health needs.
She loves to travel, go to the gym, and walk her Boston Terrier Lexi.
Crystal
Registered Dental Hygienist
Crystal is originally from Winnipeg, Manitoba but she has been living in Ottawa since 1998. In 2005 she graduated from the Dental Hygiene program at Algonquin College. She loves to keep her fingers on the pulse of dental hygiene by staying up to date with current research and development. Her infectious laughter and lively personality help keep clients feel more like a family at our office.
Crystal and her husband have two children and a Cairn terrier that keep them on their toes. She loves to read and travel and is a bit of an adrenaline junkie with her adventures in skydiving, white water rafting and
Everglade walking with alligators. She keeps busy with church, family and teeth!